Regular price
€ 55.00 EUR
Regular price
€ 110.00 EUR
Sale price
€ 55.00 EUR
Unit price
per
Sold out
Our Pro Hoody AP2 is a lightweight, breathable and quick-drying technical fleece for all outdoor activities during the warmer days of the year. Whether you sport it underneath a jacket on the mountain or by itself around the city, this hoody will keep you comfortable and warm without the weight of thick layers. 
Warm, breathable and wicking, our Pro Hoody AP2 is constructed in a classic grid pattern to trap heat and wick moisture. The micro grid enhances performance efficiency by increasing warmth and breathability, while also reducing the weight and taking up less space in your backpack.
The perfect midlayer - it will fit comfortably over a baselayer and under a hardshell, moving moisture through your layers and away from your skin, ensuring you stay dry and warm.
Its long half length front zip makes it easy to take on and off even while wearing a helmet and the tailored hood with stretch binding offers further defence against cold weather.
---
In stock
30-Day Best Price*: € 55.00
Hidden pocket

Single left-chest pocket with a hidden zipper and venting mesh pocket bag

Thumbhole cuffs

Discreet on-seam thumbholes for added warmth when it's cold

Full YKK front zipper

Full front zipper allows for further temperature regulation, with a soft zipper garage to keep your chin comfy

Tailored hood

The scuba hood has a micro-stretch bound opening so it wards off the cold and fits under a helmet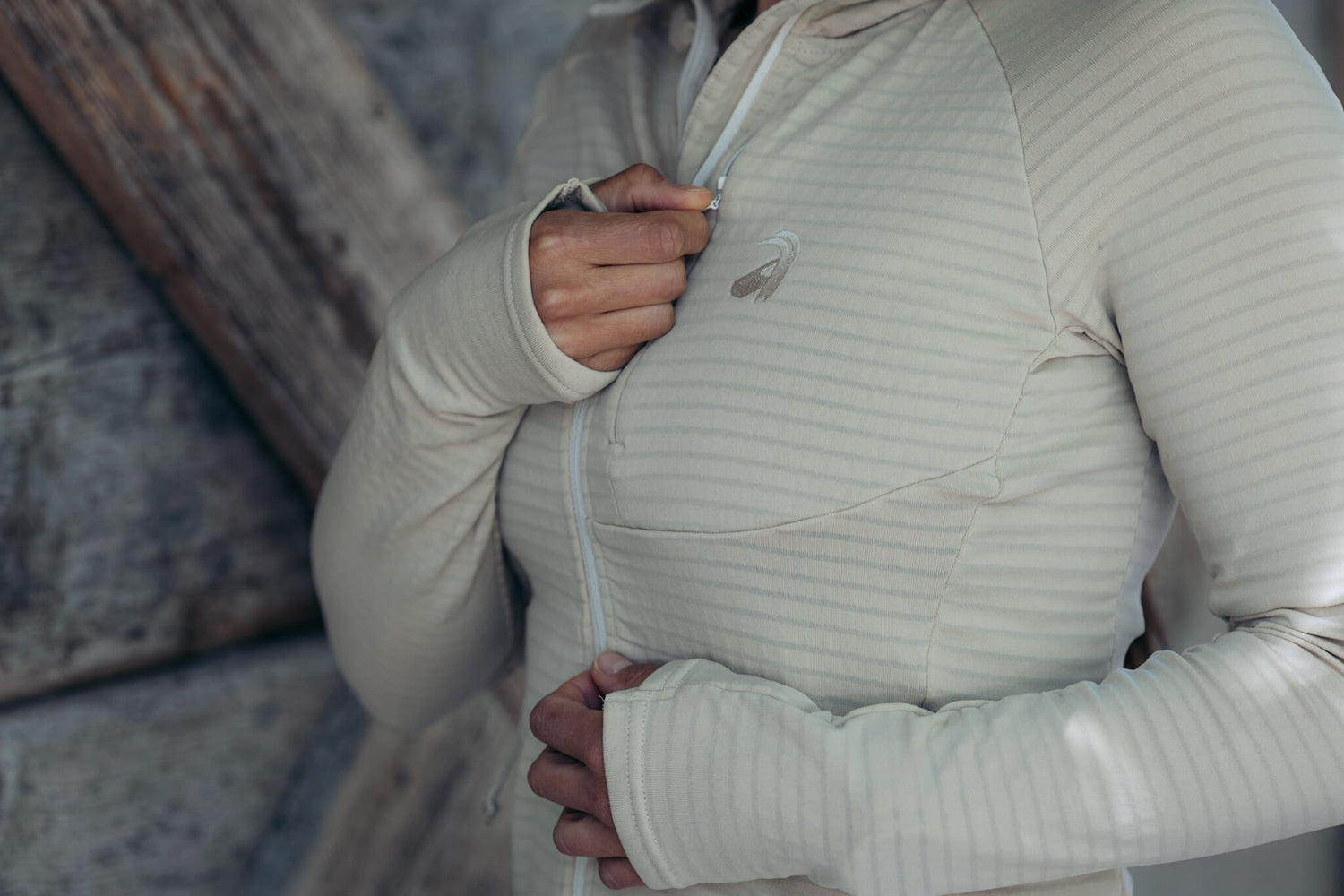 Made from Recycled fabrics
Our AP2 Hoody is a testament to our commitment to the environment.
Every AP2 Hoody is lovingly produced using locally sourced Recycled polyester from our neighboring country, Italy. By utilizing recycled materials, we actively contribute to reducing our carbon footprint and promoting a cleaner planet.
Choosing the AP2 Hoody means making a positive impact with your fashion choices. Not only will you look and feel fantastic, but you'll also play a vital role in supporting eco-friendly practices and embracing a greener future.
Join us in our journey towards a more sustainable world, one cozy and stylish step at a time, with our incredible AP2 Hoody – a choice you can truly be proud of!
Customer Reviews
Write a Review
Ask a Question
03/07/2022
Anja K.

Slovenia
My favourite
This is my favourite piece of winter clothing! I love it so much, I already have two :) It's great - it's warm, it has long sleeves and a hood. I love it and use if for running and hiking. It's perfect.
10/17/2021
Spela

Slovenia
The Best technical hoody I ever had
I love it very much! It is light but warm, it fits perfectly and it's stretchy. I wear is as a second or even third layer. The hood fits the head just right, not allowing the wind to reach your ears. It is the first hoody which doesn't get destroyed by rubbing from the backpack so I can say that material is high quality too! Would recommend it 100%! I wear size S because I like to wear it more loosly but XS fits me Just right too.
09/27/2021
Brigita O.

Slovenia
VRHUNSKA IN VSESTRANSKA
Lep, topel in vsestranski hoody. Všeč mi je kroj, ki na tebi izgleda kot, da bi ti bil hoody delan po meri. Najbolj pa mi je všeč dolga zadrga, zaradi katere se lahko oblačim in slačim, brez da bi dajala dol kapo, očala, ... Obožujem! Nakup vreden vsakega centa :)
09/15/2021
Eva

Slovenia
The perfect fit
The material is a bit thinner than the AP1 hoody so it's more suitable for warmer weather. The fit is awesome and really well tailored! It shows that a lot of thought was put into designing it! ❤ It is long enough to cover your lower back - the feature I miss at most of the clothing! I love the thumb holes and the fact that the zipper is really low, so you can easily put it on over your helmet or you just don't ruin your hair while putting it on!
Udoben in mehak
Hoody Peach Blossom je nadvse udoben, mehak, prijeten za nosit in ravno dovolj topel za zgodnjo jutranjo hojo v hribe, ko je ozračje še malo bolj "frišno", vendar ne pretopel, kar mi je zelo pomembno. Kvaliteta izdelave je estetsko dovršena, kakor se za to ceno tudi pričakuje. Zelo zadovoljna z nakupom!☺️